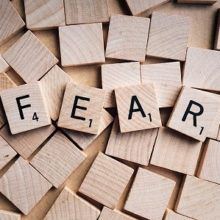 There isn't really a word for living without fear.  There is "fearless," but that just means a lack of fear.
Here are the closest words I'm aware of:
certain
sure
confident
bold
fearless
unafraid
assured
dauntless
valiant
Isn't it amazing that there is no word that stands for the pure opposite of Fear?  So many of the above words just mean the lack of something, "UN-afraid, fear-LESS, daunt-LESS."  Or, the above words have something more to them–like charging into battle.  You don't have to be bold or dauntless to lack fear, though you might be.
But it is a real quality, the opposite of fear, a wonderful quality, perhaps the quality we should strive for above all others (along with compassion).
The closest word that I can come up with is free….