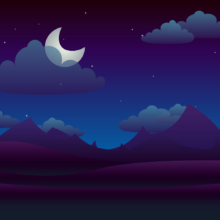 Have you ever woken up in the middle of the night and found your mind in perfect tranquility?
Perhaps you were going through a crisis or some immense period of worry.  Yet, you woke up at 3:00 am and knew that all was well, life was good, your problems had faded away with the perspective of wisdom.  Then, the next morning, the stress revved up and you were back in the fray–tense, worried, and unclear.
That nocturnal moment was a touch of grace, where you were granted (or you granted yourself) the wisdom to rest from the self-created storms of the mind.  Such perspective is a star on the horizon of what to aim for….
This state is related to, but not identical with, Mind Like Water.